To suit 180SX, S13, S14 and S15 (RWD SR20 Variants) only, READ specs below!
This is it! The NEW SR20 cam trigger by 5-0 Ignite, you do not see anything else on the market like this!
But hey? We've seen you old kit before! That's correct! As a part of continuous innovation, we saw improvements to be made from the old design. This version 2 (we call it NEO for New Equipment Option) has the following advantages;
Sensor and mounting all in one unit with OEM positioned plug and play connector. You install it just like how you would on OEM CAS.
Allows fastener access on adjustable exhaust cam gear without removing the trigger wheel.
No future adjustment of sensor gap is required once set up correctly!
More robust circuit protection than previous version.
Smaller trigger wheel, less inertia.
Doesn't it just look beautiful?
Why do you need one? Nissan motors with optical crank angle sensor mounted on the camshaft (RB, VG, SR etc.) are notorious for ignition timing drift especially at high load, high power and high rpm. This is often caused by a combination of worn out OEM CAS unit, fine 360 trigger slits and backlash from the SR20 CAS gear. Just ask your reputable Nissan tuner! This kit is also upgradeable to serve as a cam home sensor when a crank trigger setup is used (i.e. 36-2 wheel mounted to ATI balancer).
Unlike its bigger brother 'RB', due to the nature of timing chain configuration and sufficient robustness of the timing chain guides to minimise chain flex in the SR20, our testing has proven that triggering can be improved by approximately 66%* from removing the OEM CAS altogether and replacing with contactless triggering sensor directly on the exhaust cam sprocket. These improvements allows extra power to be extracted from your engine by giving your tuner confidence in maximising ignition timing whilst having consistent margin of safety from knock.
5-0 Ignite is proud to release our new cam trigger kit for SR20DET applications which gives unparalleled accuracy of engine position against any other CAM only trigger system design on the market. Our kit features;
✔ Clean Slate, 'OEM' inspired look, CNC machined billet aluminium 6061 housing, anodised black. (Does NOT Suit VE or FWD Heads)
✔ Custom made true zero speed hall effect sensors giving crisp square wave output. Each unit is tested to 11,000rpm (CRANK) / 5500rpm (CAM) prior to dispatch!
✔ 24 Plus 1 (24+1) trigger setup - Compatible with Haltech Platinum Pro and most modern/capable aftermarket ECUs (Not compatible with Nistune, OEM or PowerFC)
✔ Billet steel trigger teeth - mounted in front of the exhaust cam sprocket, compatible with stock and most aftermarket cam sprockets. Zinc plated for corrosion resistance.
✔ 5-0 Ignite ORIGINAL UNIQUE design allowing ease of installation.
✔ Complete Plug and Play solution (swapping two signal wires on the connector may be required depending on which model S-Chassis you have or the type of ECU), No wiring work required, HOWEVER, It is STRONGLY recommended to power up this sensor via regulated power supply such as your ECU's 12V or 8V output !
✔ All installation fasteners supplied
✔ Full instructions supplied (refer to 'Installation Manual' tab above). Professional installation is highly recommended. Overall, a very easy installation!
✔ Kit is proudly designed and made in Australia.
(Verified exhaust cam sprocket compatibility: OEM Nissan, Tomei, HKS, Greddy, Rollmaster & DNA motoring. Other adjustable cam gear may fit, we just don't have it in hand to verify.)
* Testing conducted on a vehicle which had 5 degrees of ignition timing 'drift' on OEM CAS (worst case of 8 degrees timing 'drift' has been observed on other SR20 equipped vehicles).
"for some setups, 5 degrees is the difference between MBT and busted ring lands"
Suitable for moderate to high powered SR20 RWD variant builds (with CAS provision on cylinder head). This is the best kit to date prior to upgrading to the expensive full crank trigger setup for your SR20!
180SX S13 S14 S15 Trigger Kit | SR20 Cam Trigger Kit | SR20DET Trigger Kit | SR20DET Cam Trigger | Link ECU | Haltech ECU | Motec | Emtron | HKS | Crank Angle Sensor | SR20 CAS
(50IGNSRTRIGNEO)
| | |
| --- | --- |
| SKU | 50IGNSRTRIGNEO |
| Brand | 5-0 Ignite |
| Shipping Weight | 0.9000kg |
| Shipping Width | 0.280m |
| Shipping Height | 0.080m |
| Shipping Length | 0.180m |
| Shipping Cubic | 0.004032000m3 |
| Unit Of Measure | ea |
Be The First To Review This Product!
Help other 5-0 Ignite users shop smarter by writing reviews for products you have purchased.
Others Also Bought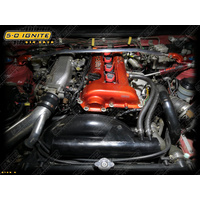 Nissan Silvia S13 S14 180SX - [R8] Ignition Kit
From AUD $342.00
or 4 payments of AUD $85.50 with

Info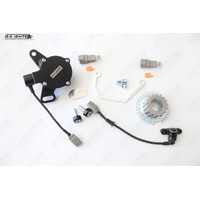 Honda B Series PRO Crank & Cam Trigger Kit
From AUD $1,056.00
or 4 payments of AUD $264.00 with

Info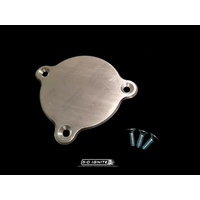 AUD $85.00
or 4 payments of AUD $21.25 with

Info
More From This Category