About Us
WHO WE ARE
Established in 2018, 5-0 Ignite ('Ignition Police') is a small, specialised automotive product company located in Perth, Western Australia. Our aim is to provide our customers with a number of select custom products that have dedicated purpose as 'worthy upgrades', focusing mainly on ignition components for popular JDM vehicles. We strive to deliver quality performance products and services whilst keeping our inventory and overheads low so we can offer affordable prices with friendly and prompt service.
Motivation started by perusing the design flaws from the 90s, the existing products on the market and the current gap in the market. Year by year, 90s JDM legend vehicles parts are harder to come by and engine performance is ever-so-pushed towards the limit. Original components may not live to the task. With the evolving, innovative and sophisticated EFI systems available on the market today, we understand that performance cannot simply be attained from bolting on the biggest turbo and installing the largest fuel system. Often, the ignition and triggering systems are overlooked! These are just some of the fundamental inputs and outputs of an engine control system that we pursue to deliver the latest supporting modification technology to you!
WHAT WE DO
Made by enthusiasts, for enthusiasts. All of our own products are designed and developed in-house using state of the art CAD, FEA and CFD software. Our style is Japanese-inspired where functionality and performance comes first. Aesthetics are formed in a simple yet elegant manner to closely resemble an OEM part.
Products we offer are track and road tested to ensure that performance and reliability are paramount at the toughest of conditions. Each and every of our components are two-step quality checked to ensure guaranteed fitment and function.
Our current focus areas are;
Ignition coil kits

Triggering system

Wiring products

Other secret development projects in the background
We also accept reverse engineering services and custom-made CNC / water-cut / laser-cut automotive component orders based on your sketches / drawings and specifications with reasonable prices and lead time*!
*pending availability/workload
HOW TO CONTACT US
We pride ourselves in providing quality products and services to our customer. If you wish to contact us, please use the form available under the contact us section, as per the below details (preffered) or drop us a Facebook message for a quicker reply for short queries. Alternatively, you may contact one of our worldwide dealers found under the our partner section.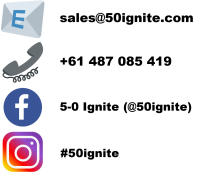 Please note: We do not have a retail store front. We DO NOT accept walk-ins.
Hours** of Operation:
9am – 4pm Monday to Thursday
9am – 3pm Friday
**All times are AWST; UTC +08:00.
Please note that orders made on the weekend or any observed public holiday will be processed on the following working day unless noted otherwise.
For information on the observed public holidays, please refer to:
https://www.commerce.wa.gov.au/labour-relations/public-holidays-western-australia
5-0 Ignite T/A Pinaxis Pty Ltd
ABN 13 615 664 278