Our R8 coil conversion kits are the most favored amongst high performance builds with a budget in mind. To compliment the 5-0 Ignite Honda B Series PRO trigger kit, we welcome you to the 21st century and present you with a no-fuss semi plug and play COP kit to suit all Honda B series!
Photos on the slideshow above are exactly what you will be getting and installation manual (including ignition dwell time adjustment) is available on the 'installation guide' tab above at your disposal.
These coils are proven to support high boost application. We ran these coils to 36 psi (on Garrett GTX35R) and straight-off-the-box NGK BKR7E spark plugs (~0.95mm gap) with no ignition break down in-sight. Next time you choose an ignition coil upgrade kit, ignore the marketing 'horsepower rating' as often advertised. Ask the seller whether their coils are genuine and what power/boost their kit has achieved at what plug gap!
Our kit has been used and recommended by road-going performance vehicles, circuit racers and drifters.
! Known un-supported ECUs: Hondata, Neptune, PowerFC and any other ECU that relies on OEM Honda board.
✔ Known supported ECUs: Haltech, Link, Motec, Emtron, ECU Master, MaxxECU and any other full standalone ECU.
! We may combine two ignition coils into one box to save on international shipping (reduced volumetric weight)
✔ Semi plug and play ignition sub-harness supplied, including the matching opposite end Deutsch connector.
✔ 4x Coil to valve cover seals supplied to provide lateral support on top of the coil and to seal the spark plug tube from water ingress and debris.
✔ High temperature and chemical resistant Teflon F.E.P wiring as standard.
✔ Heavy gauge 2mm² wire for power and 1.5mm² wire for signals as standard.
✔ P.E.T wiring loom braided sleeve and connector boots as standard.
✔ Genuine connectors.
✔ Dual wall heat shrinking.
✔ Professionally crimped terminals.
✔ We only use, trust and supply the proven genuine Denso or NGK Audi R8 ignition coils with 1-year manufacturer's warranty.
✔ Kit is proudly designed and made in Australia.
Shipping is available worldwide, trackable and insured.
Please note that we do not sell and recommend the use of counterfeit coil packs. Counterfeit products harm the automotive industry and are a hazard to your engine/safety. Be cautious when a seller uses words like "-style" or "-equivalent" to pass on cheap counterfeit products that will not perform.
We do not incorporate a wire loop in our harnesses for use with an inductive timing light as our experience proves it to be an unreliable source. To set ignition base timing, we recommend the use of coil on plug extension lead (such as DAT-Equipment TE010 or the like) to latch your inductive clamp onto for a much more reliable reading.
Honda B16 B18 B20 Coil Kit | Honda R8 Coil Kit | Honda B Series COP Kit | B16 Coil Kit | B18 Coil Kit | B20 Coil Kit | B16 Coil Upgrade | B18 Coil Upgrade | B20 Coil Upgrade
(50IGNHONDABSERIESCOP)
**International orders of quantity more than two; contact us for better shipping rate**
The 'kit' includes;
1x Pre-made plug and play ignition coil harness for CA18DET (180SX)
1x Igniter delete patch harness
1x Mounting System
All hardware (fasteners) for the kit installation
4x Denso Audi R8 ignition coils (if so, purchased as selectable option)
Please refer to the installation manual section for installation guide and the technical section for further information.
Please allow 5 working days to process your order.
[PVC insulated wires require thicker insulating material for the same specification as Teflon insulated wire. Do not be fooled assuming a larger outside diameter wire means having a bigger wire cross section area.]
You will need to set up ~2.8ms ignition dwell time at 14V to maximise the coil's performance and use resistive type spark plugs (i.e. NGK BCPR series).
Known supported ECUs: Stock Nissan, Haltech, Link, Motec, PowerFC, Nistune and MaxxECU.
Unsupported ECUs: Megasquirt, Microtech, Adaptronic
Check out range of other ignition kits: R32 RB20/RB26 | RB25 S1 | RB25 S2 | R33 RB26 | R34 RB26 | S15 SR20 | S13/S14 SR20
And see how we compare against Yaris, LS (D585/LQ9) and R35 GTR coils (no comparison against Splitfire as they are OEM replacement).
| | |
| --- | --- |
| SKU | 50IGNHONDABSERIESCOP |
| Brand | 5-0 Ignite |
Be The First To Review This Product!
Help other 5-0 Ignite users shop smarter by writing reviews for products you have purchased.
Others Also Bought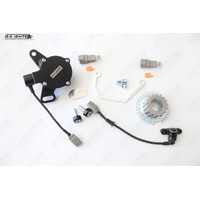 Honda B Series PRO Crank & Cam Trigger Kit
From AUD $1,056.00
or 4 payments of AUD $264.00 with

Info