*MOUNTING ADAPTOR IS NOT SOLD INDIVIDUALLY, please do not ask*
Our R8 coil conversion kits are the most favored amongst high performance builds with a budget in mind. We offer a semi plug and play kit to suit Toyota Beams 3SGE for whatever wild engine conversions you are doing. Photos on the slideshow above are exactly what you will be getting and installation manual (including ignition dwell time adjustment) is available on the tab above at your disposal. No BS, just pure performance and quality.
These coils are proven to support high boost application. We ran these coils to 36 psi (on Garrett GTX35R) and straight-off-the-box NGK BKR7E-11 spark plugs (~0.95mm gap) with no ignition break down in-sight. Next time you choose an ignition coil upgrade kit, ignore the marketing 'horsepower rating' as often advertised. Ask the seller whether their coils are genuine and what power/boost their kit has achieved at what plug gap!
Our kit has been used and recommended by road-going performance vehicles, circuit racers and drifters.
! This kit DOES NOT fit BEAMS 3SGE variant with '571' embossed marking on the valve cover casting.
! Check up tune on your vehicle is highly recommended after installation.
! Known un-supported ECUs: OEM, Megasquirt, PowerFC (Retains IGN Feedback), Microtech and Adaptronic.
✔ Known supported ECUs: Haltech, Link, Motec, Emtron and MaxxECU.
! We may combine two ignition coils into one box to save on international shipping (reduced volumetric weight)
✔ CNC machined Billet aluminium 6061 mounting system sealing the spark plug tube from water/dirt/debris.
✔ Semi Plug and Play. Deutsch connectors supplied with the kit to be crimped on your ECU side wiring for whatever ECU setup/engine conversion you have.
✔ High temperature and chemical resistant Teflon F.E.P wiring as standard.
✔ Heavy gauge 2mm² wire for power and 1.5mm² wire for signals as standard.
✔ P.E.T wiring loom braided sleeve and connector boots as standard.
✔ Dual wall heat shrinking.
✔ Professionally crimped terminals.
✔ We only use, trust and supply the proven genuine Denso or NGK Audi R8 ignition coils with 1-year manufacturer's warranty. NOT compatible with Bosch R8 coils due to different coil design.
✔ Coil packs can be removed individually from the mounting plate when installed.
✔ Correct indexing of the coil placement.
✔ Provides lateral support on the upper body of the coil pack (removes dynamic bending stresses on the fragile spark plug in comparison of when no mounting plate is used).
✔ Kit is proudly designed and made in Australia.
Shipping is available worldwide, trackable and insured.
Please note that we do not sell and recommend the use of counterfeit coil packs. Counterfeit products harm the automotive industry and are a hazard to your engine/safety. Be cautious when a seller uses words like "-style" or "-equivalent" to pass on cheap counterfeit products that will not perform.
We do not incorporate a wire loop in our harnesses for use with an inductive timing light as our experience proves it to be an unreliable source. To set ignition base timing, we recommend the use of coil on plug extension lead (such as DAT-Equipment TE010 or the like) to latch your inductive clamp onto for a much more reliable reading.
3SGE Coil Kit | 3SGTE Coil Upgrade | Beams Coil Upgrade | 3SGTE Beams Coil Kit | Toyota Beams Coil Kit
(50IGNBEAMS3SR8)
**International orders of quantity more than two; contact us for better shipping rate**
The 'kit' includes;
1x Pre-made semi plug and play ignition coil harness for Beams 3SGE
1x Mounting System
All hardware (fasteners) for the kit installation
4x Denso Audi R8 ignition coils (if so, purchased as selectable option)
Please refer to the installation manual section for installation guide and the technical section for further information.
Please allow 5 working days to process your order.
[PVC insulated wires require thicker insulating material for the same specification as Teflon insulated wire. Do not be fooled assuming a larger outside diameter wire means having a bigger wire cross section area.]
You will need to set up ~2.8ms ignition dwell time at 14V to maximise the coil's performance and use resistive type spark plugs (i.e. NGK BCPR series).
And see how we compare against Yaris, LS (D585/LQ9) and R35 GTR coils
| | |
| --- | --- |
| SKU | 50IGNBEAMS3SR8 |
| Brand | 5-0 Ignite |
3sge beams coils upgrade

By:

Abdul

on 25 August 2023

Have just bought and installed these coils to replace my old OEM ones on my forged and boosted 3SGE Beams. Very impressed with the kit, the car drives very well. Had them installed professionally and worked out to be similar cost to factory coils however a much better product. ECU is a Link G4+ and was remotely calibrated for these new coils. I was weighing up between buying factory coils or these. I thought going down this route (R8 coils) might be a hassle with the wiring and dwell time calibration for these coils, however all of that was simple and straightforward. Very happy with the outcome. Would highly recommend.




(5)
Me up Scotty

27 August 2020

R8 coil kit fitted the beams cam cover perfectly. Can't wait to finish the project and crank up the boost.




(5)
More From This Category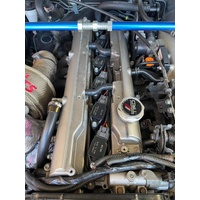 Toyota JZ - VR38 R35 Coil Kit V2
From AUD $1,299.00
or 4 payments of AUD $324.75 with

Info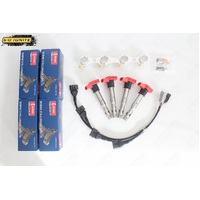 Toyota 1ZZ - [R8] Ignition Kit
From AUD $342.00
or 4 payments of AUD $85.50 with

Info